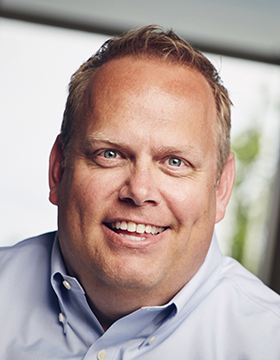 President of Copier Division
Steve is a highly respected sales veteran in the technology industry and a coveted speaker on many topics, such as production print solutions, sales growth and effectively expanding client relationships. His keen sense of humor and infectious personality help drive Marco's sales professionals to perform at their very best.
Steve joined Marco in 1997 as a copier sales representative and later became the Sales Manager for our Twin Cities market. In 2009, Steve became the Sales Director overseeing Marco's copier/printer division for our Twin Cities, Wisconsin and Southern Minnesota regions. He was appointed Vice President of Sales in 2014, and President of Copier Division in 2016. Steve's sales leadership has helped Marco achieve consistently strong revenue and profit growth.
In 2002, Steve Gau danced and sang to "Bye Bye Bye" by NSYNC on stage…at a Marco Christmas Party. He was hypnotized, so this was not by choice, but we assure you it was hilarious. Besides singing, Steve enjoys spending time with his family, friends, hockey, golf, traveling and anything related to humor.
Who inspires Steve? His father, who is in his upper 80s. Steve admires his father's strength and resilience. He is also inspired by his loving wife and two daughters, and he likes to create fun experiences for his family.
Eduation
St. Cloud State University, 1994
Community Involvement
Steve is a Cannata Report Editorial Advisory Board member. He has volunteered as a big brother for the Big Brothers Big Sisters program for 10 years. He has been active in Boy Scouts of America, achieving the rank of Eagle Scout. Steve is passionate about helping causes that benefit critically ill children, such as Children's Hospital and Ronald McDonald House; he volunteers at the Ronald McDonald House and the school his two daughters attend.
Joined Marco
1997