If you're looking for ways to cut down on expenses without causing friction, you may be in luck. Offices notoriously overspend on printing supplies, often because such expenses aren't tracked. Therefore, it's very easy for employees to order unnecessary supplies, order the wrong supplies, or order supplies you already have in stock. Tracking these costs can illuminate a good many cost-saving opportunities or inefficiencies, and probably save you more money than you'd think.
Why Some Office Supplies Aren't Tracked
Not keeping track of printing supplies is a wasteful workplace habit. But like most habits, there's a reason it became the norm. Here are the main reasons office supply expenses often aren't tracked and managed properly:
There is a universal need throughout the office which generates constant requests from many different employees
Seemingly low costs often justify spending without approval
A continual need encourages frequent replenishing and large quantity purchases
More than one person within your company is approved to order office supplies
The list of office supplies is extensive, which makes them a challenge to manage and monitor
It's easy to hide some supply expenses under general terms, like "office supply expenses"
In looking at this list, it's easy to see why printing supplies are associated with a significant amount of waste. All of that paper really adds up: the average American office worker uses about 10,000 sheets of paper each and every year, at an average cost of $725.
Monitoring the Use of Your Printing Office Supplies
If you aren't monitoring your printing supplies, you won't know if an employee is printing copies of their 400-page novel on the company printer. Your employees could be ordering cartridges without even looking at the cost, and another supplier may offer the same cartridges for far less. Fortunately, as soon as you uncover the issues that are causing you to spend more than you should, you can address and fix them as you put together your revised budget.
Of course, managing office supply expenses generally falls on the shoulders of already busy people, and it's a very easy thing to put off. Almost every organization around the world has gone through a significant amount of change in the past few years, and many are still playing catch-up. However, the longer wasteful practices continue, the more money your organization could be losing each and every month.
Conduct a Print Assessment
In order to build an accurate office supply budget or, even better, an office printing supply budget, you need some historical data. Go through a few months or even a year's worth of office supply purchases and determine your total monthly expenses. Marco has provided a print cost calculator to help simplify this task. Most organizations are surprised to find exactly how much they're spending on print supplies.
When you know your historical office supply expenses you can build and implement an accurate plan and budget. It's important to continue to monitor and reevaluate your usage and costs every few months. Things change, needs change, new expenses crop up and old ones disappear requiring an adjustment in your plan and your budget. This can be a daunting task, but with the right preparation, tools, and assistance, monitoring and managing your printing office supplies can be done effectively.
Conducting a proper print assessment can obviously take up a lot of time, and even if this assessment can be conducted internally, it's often best to allow your staff to focus on what they do best. That's why many offices hire an MPS provider to do this work for them. In addition to conducting a print assessment, an MPS provider can assess all of your printing needs and business goals and provide cost-saving and workflow improvement recommendations.
Managed Services Can Help
A Managed Print Services (MPS) provider specializes in doing exactly this type of work, and clients that contract with a MPS can save up to 30% on their monthly printing expenses. An MPS provider can also make this entire task fairly easy. Through software installed on your computer, your provider can monitor toner and printer usage and detect issues or malfunctions. With this software, you could track supply and equipment usage as a whole company, by department, and even by user.
At the end of every month, you will be given a report of how your supplies are being utilized, clearly indicating any issues. If you notice any inefficiencies, you'll be able to implement printing policies to minimize them.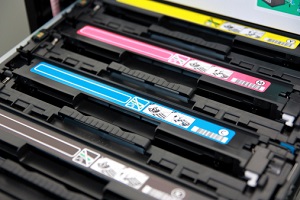 When you choose Marco as your MPS provider, another wonderful benefit we are pleased to extend to our clients is automated toner shipment. When your cartridges are getting low, your print provider will automatically ship you a new one. Going forward, no one within your company will have to spend additional time checking toner cartridge levels and ordering them.
Finally, with Marco, any assessments, help desk support, troubleshooting and repairs are offered by our team of in-house printing equipment and technology experts. As they assess your equipment and use of supplies, they'll also provide recommendations for cost-saving opportunities and improvements to support your unique business goals.