There are countless IT firms and service providers offering businesses solutions that promise to make cloud computing possible. The problem facing most businesses is trying to compare services offered by different platforms and providers. Which company offers the best features? What about the most robust security? Or perhaps most importantly, which company offers the best support from start to finish?
As an example, in this post you'll find a comparison of two cloud platforms: Windows Azure and Marco Cloud. You'll learn about the primary features of each, and find the information you need to determine which service best suits the needs of your business.
An Overview of Windows Azure
Windows Azure is a cloud computing platform offered by Microsoft. In general, it is a collection of integrated business services that includes, but is not limited to, analytics, computing, database storage, mobile computing, network and web access. With Windows Azure, your business can use web apps to access popular software programs via an Internet connection, and mobile apps providing these same services on the go.
Microsoft's cloud solution offers all of the integrated tools and pre-built templates your business needs to build and manage an enterprise network, mobile platforms, web apps and other services required to support your operational needs. Azure is a flexible platform that is easily scalable to grow and shrink with your business, and works within the existing IT infrastructure of your business.
In addition, Azure offers high-level security software that matches European Union data protection standards and even U.S. government and public agency standards. Microsoft's cloud platform runs on a worldwide network of Microsoft datacenters that exist across 19 regions of the world. Windows Azure is a pay-as-you-go service, making it an excellent option for businesses large and small.
An Overview of Marco Cloud
Managed Cloud Services from Marco offer similar functionalities to Microsoft's Windows Azure. Marco's Cloud will give you access to all the popular cloud tools and services your business currently relies on for day-to-day operations, such as file sharing, file backup, email, website hosting and business apps.
Marco's Cloud Services also offer your business an affordable solution that is scalable. When your business grows, you can increase accessibility and enjoy greater bandwidth without investing heavily in expensive equipment and software licenses. You can reduce the risk of lost or compromised data files with backup and security features offered standard as part of your cloud.
Remote access gives your employees the freedom of movement. Whether your core employees travel frequently to support business operations or you employ remote contractors, everyone can access a secure cloud network to remain productive and efficient from anywhere. Best of all, Marco Cloud collaboration tools make it easy for your employees to share files quickly.
What you'll find with Marco's Cloud Services that isn't available elsewhere is accessible technical support, where you need it and when you need it. Marco's Cloud Services offers flexibility and stands by its solutions with on-site support and technical assistance to ensure your experience with the cloud is a pleasant one.
Windows Azure, Marco's Cloud Services…We're There Either Way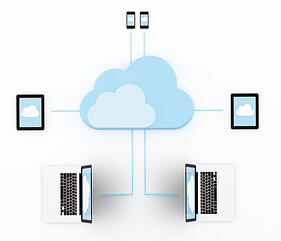 Whether you choose to go with Windows Azure or Marco's Cloud Services, you can count on the expertise and experience of Marco IT technicians to support your migration to the cloud. Transitioning from traditional on-site IT to a cloud environment can be confusing and challenging.
We're here to help. We'll stay focused on your business experience to ensure a successful migration to your new cloud environment. Contact Marco today to learn more about cloud platforms and the support services you can expect from us.