Once upon a time, the grainy surveillance systems that operated on analog technology represented a breakthrough in security and monitoring for businesses everywhere. But times have changed, and digital video surveillance is making analog technology obsolete.
If you are considering installing a new digital surveillance system or considering upgrading your old system, it is important to know the advantages a digital video surveillance system can provide your business.
Implementing a security camera system is about protecting the assets of your company, which includes infrastructure assets as well as the hard working-individuals that play a vital role in successful business operations. From preventing theft to detecting customer movement patterns, video surveillance systems provide your company with a number of benefits.
Benefits of Surveillance
For decades, analog video surveillance has been the standard for security across various industries. But technology and supporting software have drastically improved over time, making now a good time for your business to upgrade to a digital video surveillance system. Here are eight ways digital video surveillance benefits businesses:

1. Reduce Loss, Theft, and Vandalism
Let's start with the obvious advantages a digital system provides, compared to analog. Digital surveillance cameras not only capture and store more video than analog systems, but the quality of the video feed is far superior as well. Digital video cameras offer high-definition clarity and wider viewing angles. This quality gives businesses the ability to clearly see what is taking place – good and bad – within and around their facility.
These clearer images allow your business to pursue charges against individuals caught stealing or vandalizing property because you can now provide law enforcement with quality images to be used in the prosecution of suspects. As a result, you have a more effective deterrent than an analog system that merely catches an individual with poorly defined detail.
The improved video resolution and coverage angles can also save your company money. With greater coverage, your company will need to spend less money on cameras and infrastructure to support them.
2. Experience Easier Installation and More Effective Implementation
Digital systems can be installed more easily than analog systems, require less equipment and can help your security team more effectively operate the surveillance system. Analog surveillance systems need complex wiring to cameras in order to view multiple video feeds. Today's advanced digital surveillance systems require much less work to install and maintain.

3. Improve Storage and Accessibility
Most analog surveillance systems use tape recorders to store video footage. This decreases the amount of video that can be stored and ease of accessibility of that footage. Digital video surveillance systems store all the footage your cameras capture on DVR (digital video recorder) systems with ample storage space. This means your security team will also be able to store more surveillance footage with digital than they can with analog.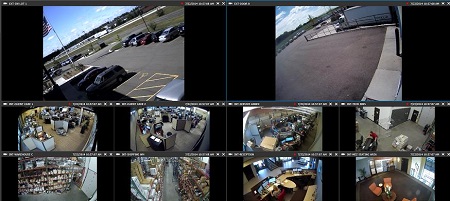 Rather than being trapped in your office or at a computer monitoring security footage, digital video surveillance systems provide you and your security team with the flexibility of secure, remote login. Now, whether you have a remote site under surveillance or are out on the road, you can log in from any remote location to view security footage. Plus, multiple digital feeds can be viewed from any location.

4. Enable Remote Monitoring
This might be the most overlooked advantage of a digital surveillance system. With a highly-integrated digital video system, you can monitor the activity on your surveillance feeds from anywhere in the world, as long as you have a connection to the Internet.
Mobile devices, laptops and tablets are all fair game. You can log in to your security system from any of these devices and view live streams or access archived footage.
5. Reduce Costs & Scale More Easily
First and foremost, digital video surveillance is more cost-effective than its analog counterpart. A digital system requires less physical infrastructure to operate (think fewer wires) than an analog system. Since digital cameras produce higher quality images with wider viewing angles, you'll need fewer cameras to cover the same space, too. And, as mentioned above, digital feeds can be compressed and stored using less space than analog video.
Digital video cameras use CAT-5 wiring and Power-Over-Ethernet (POE) technology to combine power and video transmission in one cable, which is a big improvement of the coaxial and power cables analog requires. Digital cameras also require less cable for each camera. Rather than running cables all the way back to the storage device, CAT-5 cables can be run to a nearby POE switch.
Then there's scalability. As your coverage area grows, a digital system can easily grow with your company one step at a time. Digital cameras can be added as needed and easily integrated into the network. Analog systems cannot be integrated as easily, and it can be more costly to place analog cameras in remote locations because of its wiring needs.
6. Save Time With Distributed Intelligence
With a new digital surveillance system keeping a sharp eye on the activities in your business, and countless hours of video captured, who is going to have the time to watch every hour of footage? Analog systems have gaps in security coverage that digital systems fill with distributed intelligence.
It is impossible to sit and view every minute of security footage captured by your digital surveillance system, but distributed intelligence can fill that gap. Available software programs can monitor video feeds to pick up events, activities and specified behavior through the recognition of movement patterns. Alerts are generated and sent to your security team. Analog systems cannot match this capability.
7. Upgrade Your Management Software
Unlike analog systems, digital video surveillance systems are optimized for use with today's management software from the moment they are installed on-site. Among the benefits of management software integration are the ability to search archived footage based upon numerous factors (timestamps, location, etc.) and the option of accessing any camera feed from any location.
One of the most valuable benefits of enhanced management software is the ability to gather state-of-the-art video analytics, providing support to your security personnel. Analytics can be pre-defined or custom and set to recognize patterns in movement. When anomalies are detected, security alerts can be sent out to notify your security personnel.

8. Improve Productivity
All of these advantages lead to this final point. Your employees are more likely to remain on task, take breaks efficiently and feel safer in the workplace knowing there is an advanced, digital surveillance system monitoring activity in the workplace on a daily basis.

Request a digital video surveillance consultation to meet with an expert and assess your business's unique surveillance needs.